Free-Standing Gallon Sanitizer Floor Stand
About The Free-Standing Gallon Sanitizer Stand
The 15lb Free-Standing Gallon Sanitizer Stand is sturdy yet 100% mobile. Place in any heavy traffic area to provide your guests with peace of mind with a quality hand sanitizer station.

We've designed the hand sanitizer dispenser stand to be assembled with minimum effort in as little as 5 minutes. Simply combine the interlocking legs and insert its 8 phillips screws to complete setup.

The stand can hold nearly every brand of 1-gallon pump dispensers and provides an easily accessible hand sanitizer station for schools, offices, churches, hospitals, banks, and more.
Specifications
Material: Powder coated sheet metal

Hardware: 8 phillips screws

Compatibility: Accommodates 1-gallon hand sanitizer bottles

Custom Colors: Available with bulk orders

Dimensions:
Base Size: 15" diameter base
Height: 35"
Metal Thickness: 12GA Steel (3/32")
Shipping Container Size: 48" X 18" X 1.75"
Weight: 15lbs

Item #: RM4854 Gallon Bottle Dispenser Stand
Made in the USA!
For 1-Gallon Hand Sanitizer Pump Dispensers
(dispenser not included)
The easy-to-build sanitizer stand is fully-portable, yet highly sturdy to prevent tip-overs. Assemble in 5 minutes and station hand sanitizer in heavy traffic areas.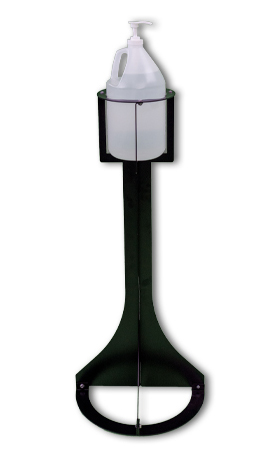 1 Sanitizer Floor Stand
$102.00
Availability:
in stock
5 Sanitizer Floor Stand
$98.00
Availability:
in stock
10 Sanitizer Floor Stand
$93.00
Availability:
in stock
25 Sanitizer Floor Stand
$89.00
Availability:
in stock
*Call for Bulk Pricing.
Sanitizer Stand Features:
Interlocking Feature for Fast & Easy Assembly
Lightweight Design for Convenient Mobility
Works with Nearly any 1-Gallon Hand Sanitizer Pump Dispenser
USA MADE - Designed, Fabricated, Built, & Shipping in Texas